Antler Furnishings for Sale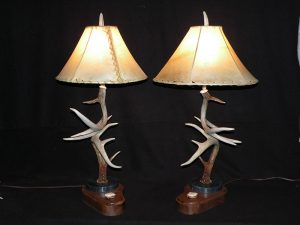 Deer Antler Table Lamp
I call this the "trophy" table lamp as I use a couple very large antlers that have some character to them.  The antlers are attached to a marble and walnut base.  The lamp also has a deer antler burr on/off switch along with a 3-way bulb.  Lamp also comes with a rawhide shade and antler finial.  Lamp stands around 28″ tall to the top of the shade.  Very nice for an end table.  Also available in matching sets as shown.
Price: $375.00 Shipping: $65.00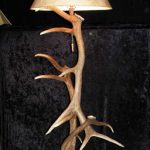 Elk antler floor lamp
This is one of my favorite items to build.  I use a couple large elk antlers along with one smaller antler for the base.  Makes for a beautiful floor lamp that fits in just about any decor.  Lamp features a 3-way bulb with a antler tipped pull on/off chain.  Faux rawhide shade with an antler finial.
Price: $1000.00 Shipping: $125.00